A successful laser tag attraction starts with your centre design, and a consideration for all of your market opportunities, along with a strategic focus on long term playability and repeat appeal.
Combining strategic arena design, with your laser tag equipment and arena technology (bases, targets, mines, and designs), builds an attraction synergy that maximizes the guest experience, and helps to diversify and expand your market opportunities
With a completed build-out and a synergy between your laser tag arena, and your laser tag equipment, you are able to offer a wide variety of standard and unique laser tag and arena games that appeal to a broad range of players and demographics.
It doesn't stop there though, to make a successful centre, the whole building must be aligned, themed and well laid out to best optimize the facilities. Here are some thing's we've learnt about the way to layout your centre!
LOBBY
Upon arriving at your facility, your lobby is the first impression your customers will have of your facility. Customers will be here to purchase games, redeem tickets won, and buy refreshments. The lobby is the central hub for the rest of your facility.
Your lobby will include
– Front Counter
– Arcade
– Redemption Counter
– Entrance to your various attractions
– In-store marketing items
– Scoreboard
– Closed Circuit TV for arena viewing
– Tables and waiting areas for those waiting to play
Your goal should be to create a lobby environment where those waiting to play your attractions are able to spend time having fun or learning more about your facility.

ARCADE
A well laid-out arcade and redemption centre can increase your potential income significantly. Also having the hottest, most profitable arcade/redemption mix is equally important.
Operators can either lease their arcade games from a third-party vendor or own them outright. The benefit of leasing is that you can keep your games cycling through as newer games are released while broken games are repaired by the third-party company, leasing of course also greatly reduced the initial investment on the arcade area. Your profits this way are generally split 50/50 with the leasing company.
Owning your own games increases your profits but you'll have to do the repairs and updates yourself, and keep the range current. Operators who have experience fixing these machines generally choose this option or move to this option over time.
Industry experts suggest that you allocate about 4 m2  (50 foot square) per video game for your arcade. If you plan to purchase your games, an average price per video game or redemption game would be around $9000 per machine. With some titles costing up to $100 000.
The industry average revenue per non redemption machine is around $200 per machine. Some machines will make considerably more but others could generate less. For initial planning purposes however, the $200 per machine is a safe number. For Redemption units, assume closer to $350 per machine, however there will be additional expenses in terms of tickets and prizes redeemed.
Redemption games are usually the bigger money makers in your facility, as the reward options at your redemption counter feed the desire for your guests to play. A well-stocked redemption counter can create real excitement for your customers and their children, who will want to take those prizes home.
A further consideration is the payment method for your arcade games, there are 3 main systems. Coins, Tokens, CIP/Card based. There are pro's and cons for all of the options. With Coins, most machines come by default with coin mechs, which means no rebuilding to take token/CIP readers. People also don't need to change their money into tokens/credit to use the machine.
With both Tokens, and CIP, generally some modifications are required to change weighting on the mech's for tokens, or to replace the mech entirely to a CIP reader (Cost between $150-$800 per reader). With Tokens, initial investment in purchasing tokens is also required, and with CIP, for the card needed by the supplier.
With both Token, and CIP, staff time is increased on the arcade, with staff needing to swap money for the payment method. However, it does allow for packages, and bulk spending on the arcade along with other benefits. Token and CIP options greatly enhance redemption returns on arcade. There are also options to consider between printed tickets and Etickets! We will cover this in more detail in a future blogpost!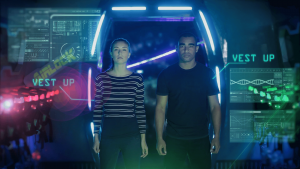 BRIEFING
Before vesting up to play in your laser tag arena, your guests will need to be briefed on how to play the game. Your briefing room should make it easy for your game commander to explain the arena rules and how to use the laser tag equipment.
Some operators prefer to use a DVD or video when briefing the players on the laser tag system, while others prefer a live presenter for every game. Bringing in equipment to show players how to use the equipment is also common and can be very interactive, especially with birthday children. Some briefing rooms have places or areas to sit while others have all the players remain standing during the brief.
These are all preferences as briefing can be done in any of the ways listed above, but you'll only need about 0.75m2 (9ft2) per pack to comfortably fit your players.
Your layout between your briefing room, vesting room, arena, and lobby are crucial to your throughput. While customers are being instructed, those playing the game should be hanging up their vests in the vesting room and exiting to your lobby through an exit in that room.
That way when the briefing is completed, they should be able to move directly into the vesting room without encountering the previous game's players. Facilities that can't accommodate this kind of flow can suffer lower revenue and fewer games per hour. Theming in your briefing room is an important aspect of starting to set the mood for your guest's experience.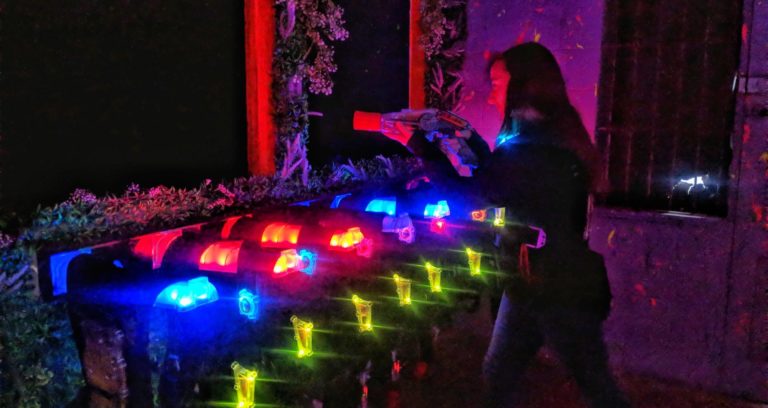 VESTING
Located between your arena and briefing room, your vesting room is where your players go to put on the laser tag equipment and get ready to enter the world you've created for them.
The Image at the bottom is an example of a vesting room. Designing a vesting room is a little tougher than the briefing room because you need the right square spacing  for the protruding racks and enough space for everyone to vest up and exit into the arena and lobby at the end of the game.
There are many ways to handle your vesting racks and charging system, but most systems are pretty flexible. 30 cm (12in) to 45 cm (18in) inches on center between vesting racks are required for proper spacing. The image beneath is designed for 40 cm (16in) inches. Also, the door to the arena and the door out to the lobby should be on opposite walls and clearly marked to avoid confusion.
The vesting room needs to have carpet and a thick pad installed. People are going to drop your equipment day in and day out, so give it something soft to fall on. The carpet should be cheap, industrial, and a solid color, preferably black or grey is the way to go.
Zone Vest Racks have been the industry standard for years. With DMX or remote-controlled lighting, our Vest Racks are designed to WOW players as they enter the kit-up room. They're simple to install and, with our vests, really make the room come alive. 

ARENA
This is where your ultimate vision for your facility gains traction or falls on it's face! Having a well-designed and playable arena is absolutely crucial to the success of your laser tag business.
When designing your laser tag arena, there are plenty of factors you'll need to take into consideration, mostly listed in the various tabs of this section. There are some items specific to the arena that don't necessarily apply to the rest of the laser tag attraction though.
One of those factors is space required for your laser tag arena. A good rule of thumb is to allow for 10-15 m2 (100-150f2) per player. This allows a comfortable playing space for your customers. Go too small and your guests will not have much fun, and you'll create a claustrophobic feel when the arena is packed with too many players. It is always a good idea to design for a slightly larger arena and add more packs to your attraction than to build too small and not have any room for growth.
The shape of your arena can vary depending on your building and layout. Some facilities try to design for a mirrored arena, split down the center to allow for a fairer experience among players, while others try to create a less conventional design allowing for more sporadic and unique elements and obstacles to hide behind.
Some operators struggle with the idea of making their laser tag attraction single level or multi-level. While most laser tag attractions today are multi-level, there are some important reasons why. Multi-level arenas outlast and outperform single level laser tag attractions nearly two to one. Two level arenas also need a minimum of 5m (16 f2) high ceilings. Which is not always a possibility depending on your building.
Don't despair, there are still workarounds to add the appearance of height even when your building doesn't allow. Create the illusion of height by making what we call half-levels, elevated areas that aren't designed to have players underneath, and don't raise to a full second floor. This still creates an exciting experience and keeps the arena from feeling flat and one dimensional.
If you are considering doing a second level, then your play structure should be around 30% of your footprint.
Over the past few years, compliance has been an issue many operators have had to deal with. Ramp slopes and player accessibility are two common areas that have had to be addressed. Two ways to deal with these issues are to make sure your arena is labeled a play structure, not a laser tag arena and to only include things like targets and bases that can be accessed from the first floor of your arena.
If you are purchasing from Zone Laser Tag and run into either of these issues, feel free to contact us for possible solutions to these problem
Make your building come alive with light. Zone has partnered with the best solution companies in every field, to be able to offer premium solutions for your projects, to be able to offer intense, vibrant art solutions for your projects.

Tech Room

You need a space set aside where you can work on broken equipment that is out of the public eye. You also need a place to store tools, spare parts, and all the screws, washers, etc. that they come with.
Ideally, your tech room should be attached to your vesting room and near the entrance to the arena. This is so that players who need simple fixes can find and receive the quick fixes without losing a lot of precious game time. Having your tech room near the vesting room and arena will also keep your equipment from having to travel through the lobby where guests will be. The Tech room is a great place to put your Laser Tag Networking as well.
Depending on the size of the facility as well as what space is available you need the largest tech room that you can build. What do you place in it that requires the space?
First, you need at least a 1m (3') by 2.4m (9') counter to work on vests, boards, special projects, etc. This counter should sit on a couple of cabinets and drawers to store the most commonly used tools. Storage space above is also very important as everything you could possibly need should be within reach.
Second, storage shelves for the larger parts and maybe even supplemental storage for other aspects of your facility. Storage space in any site is at a premium so don't waste any available space here either.
Lastly, a backup charging area complete with basic vest racks is a very good idea. They should be placed near the door so that if you have a pack failure vests can be swapped out quickly so that you don't lose a dime. It can also serve as a backup unit should a section of your charging system fail.
The tech room example above is only 3m (10′) by 4.5m (15′), but you can cram a lot into that space. If you have the space for a room of larger size, then by all means use more space if you can. The example room is really just a little larger than what is often found in many facilities. Commonly found because most tech areas are afterthoughts and are placed wherever space happened to be available.
It is important to also note that this space should be used for storage relating to your arena and packs and not for redemption or storage of perishables, food, or party supplies. Those items should be stored in appropriate storage areas throughout the facility.

Party Rooms
These are the rooms where your groups and parties will spend a good deal of time at your facility, so you have to continue the feel and theme of your facility into these areas.
Sometimes operators will have the option to do either party rooms or party areas where multiple parties are going on at the same time. In our experience, party parents and group leaders will choose exclusive party rooms over party areas nearly every time.
Party rooms are generally around 4m (14') x  5.5m (17') or so and utilize a 1.2m (4') – 1.8m (6)' table or pair of tables to meet that size. This gives you seating for 10-14 guests plus things like a counter or other space for the party host etc.

Multiple connected party areas can also be designed to open into larger rooms for corporate or larger group functions. This can be done, with either connecting double doors, or better yet sliding walls. An increasing number of facilities are even including options like projectors, or screens for presentations and buffet style food preparation for these larger, more professional, events.

Observation Deck
In today's culture of "try before you buy," an observation deck allows you to sell your laser tag attraction to those who aren't sure if they or their children want to play in your facility. Letting mom take a look at your attraction and seeing their child's happy and excited face is a fantastic way to win more parties at your facility.
Mothers also like to watch their children play and appreciate the opportunity to make sure their children are having a good time in your arena.
Observation decks don't often take up that much space and if placed on the second level, give viewers great spots to watch the action taking place. These areas are generally completely cut off from the lobby by a door with no windows as to not disturb the players in the arena.
A less recommended alternative is light reflective, tinted, glass that can be incorporated into a lobby wall connecting to the arena. The observation glass can often times let light from the lobby into the arena disturbing the effects. Many visuals in the arena, such as the black light painted walls and obstacles don't glow when exposed to white light. This option has to be done carefully and wisely to be effective in your facility.

Another great option is to have cameras in your arena with a display monitor in your lobby or party rooms so that the parents and waiting players can view the action going on in the arena as well. Many facilities with observation decks create this option for those who cannot visit the observation deck on a second floor. Camera boards are a great addition to the scoredisplay area, as they allow the guests to watch both the scores and action in real time!

Kitchen
To feed or not to feed, that is the question? Many Family Entertainment Centers include a full kitchen to maximize food profits rather than just relying on snack sales or ordering from nearby restaurants.
Having the ability to make your own pizzas, hamburgers, fried foods, and/or birthday food options can help increase your overall profits significantly. However, they do add a large set up expense and open up a lot of extra consent and cleaning requirements!
You'll want to include space for:
Ovens

Fryers

Refrigerators and Freezers

Sinks and dish washers

Coffee Machine

Slushy/Popcorn or other small service items

Storage containers and shelves
Items like the Coffee, Slushy and popcorn, can be Incorporated into your front counter , doing so generally increases the sales of those, as then customers can see your crew making their drinks/popcorn
Branding both the food, and the Cafe area to fit in with your center is key to making it work! Both with the names of your food, and a local twist on the food style.
Speaking to your fire marshals and contractors, you can learn about other local and federal compliances you'll need to abide by to include a full kitchen into your facility.

Office Spaces
Your office spaces are where your management will be handling facility matters, handling phone calls, counting money, recording security cameras footage, storing important or expensive items, and tracking daily statistics.
It is important to have a space for your management to be able to work away from the facility's action, as many of your manager's functions and appointments need their full attention. These offices don't usually need to take up much room at all to store a desk, computer, and perhaps a few filing cabinets and shelves.
Theming these rooms to your center, is a good step to remind your managers why they do what they do, and keep them in the fun mood!
Another office space should be considered to be used as an employee break room. This is a place for employees to store personal items and have meals.
Not having a break room means that employees will hang around the lobby or tech room or other places you don't want them to eat and spend their break times. This can create problems where staff and your customers interact. Having your employees use your office as a break room can create other unwanted situations if theft were to occur.

Supporting Spaces
Besides the main sections of your facility, you'll have to include other areas every facility will need to consider.
Restrooms – Your local fire marshal can tell you how many restrooms and stalls you will need based on your parking and occupancy of your facility. If you have to relocate a restroom from another part of the building, this can be an expensive item to budget for.
Storage – DO NOT underestimate how much storage you will need for your facility. You will need separate storage spots for cleaning chemicals, restaurant supplies, tools, extra lights and maintenance equipment, party supplies, employee supplies, seasonal items, redemption prizes, and more based on your other attractions. Many facilities forget to include or end up lacking these in their initial designs.
Waiting Areas – Don't forget to have milling spaces for guests, so they don't feel like they are encroaching on attractions as they wait. You want guests to feel comfortable and relaxed during their visits.
Bins/Recycling – Having plenty, well spaced around your facility will help to keep it clean. Having these themed to the center is a plus as well, to make them fit in better.
Since the guest experience is central to the long-term success of your business, you must minimize the friction points of every interaction with your facility. An example of customer friction is the frustration of finding parking when a guest is visiting your facility. Be sure to select a location with parking relative to the size of your facility to accommodate the number of guests per hour on your busiest day.

Your local authority or city council can give you guidance on the minimum number of parking spaces needed for your business, many countries link the amount of parks available to the occupancy of the building so make sure to plan accordingly