— The most advanced Laser Tag
Helios PRO is not just a laser tag system, it's an all-encompassing laser game platform designed by today's leading laser tag company. Perfect for the buyer that needs only the best.
Helios PRO is powered by O-Zone, meaning from the palm of your hand you can start and finish games, interact with vests, change settings and colours in real time, print scorecards, access your reports and more.
Just some of Helios PRO's amazing features:
Zone's Helios PRO is more than outstanding design, it's an evolution in concept, bristling with innovation after innovation never seen before in the laser tag industry – all industry firsts by Zone!
Laser games with Helios PRO are vibrant and exhilarating, a thrilling experience for all ages. No other laser tag experience provides the quality, features and the excitement that Helios PRO brings to laser tag gaming.
● Global membership
● Safe, intuitive gameplay
● Innovative, durable hardware
● Customisable software – simple operations
● Dynamic diagnostic tools
● Fully integrated arena accessories
● Support – going above and beyond
● Multiple arena functionality
Helios sees tens of thousands of players a week in venues right across the world. Bringing new features and design to heighten and streamline the laser tag experience, Helios eliminates many key failure points common to other systems.
The Helios platform is innovative, while remaining true to the core values of playability, comfort and durability. This is why we've kept our core vest design, far more comfortable for all shapes and sizes than a poncho – no more worrying about catching hair and earrings. It's built with combination of polypropylene mesh (trampoline material), coarse cell foam, wetsuit material and seatbelt webbing for edging. It's light, durable and comfortable, and it's sweat resistant and easy to clean.
● Huge solid 'FAT' green laser – no one else has anything like it!
● 3"400 x 240 pixel colour touch screen
● Large capacitive two-hand sensor
● Built in Membership card reader
● Shoulder and phaser audio
● Robust long lasting battery
● Capacitive touch buttons, for weapon select
● 50+ Game modes, with more available
● Magnetic trigger
● Crossfading LED visuals
● Extra strong polycarbonate plastics
● Durable, comfortable and easy to clean vests
● Rubber protected flexible phaser cable
● Replaceable soft rubber nozzle protector
● 5 GHZ Dual Band Wi-Fi for reliable, ultra fast speed
● Powered by O-Zone embedded server technologies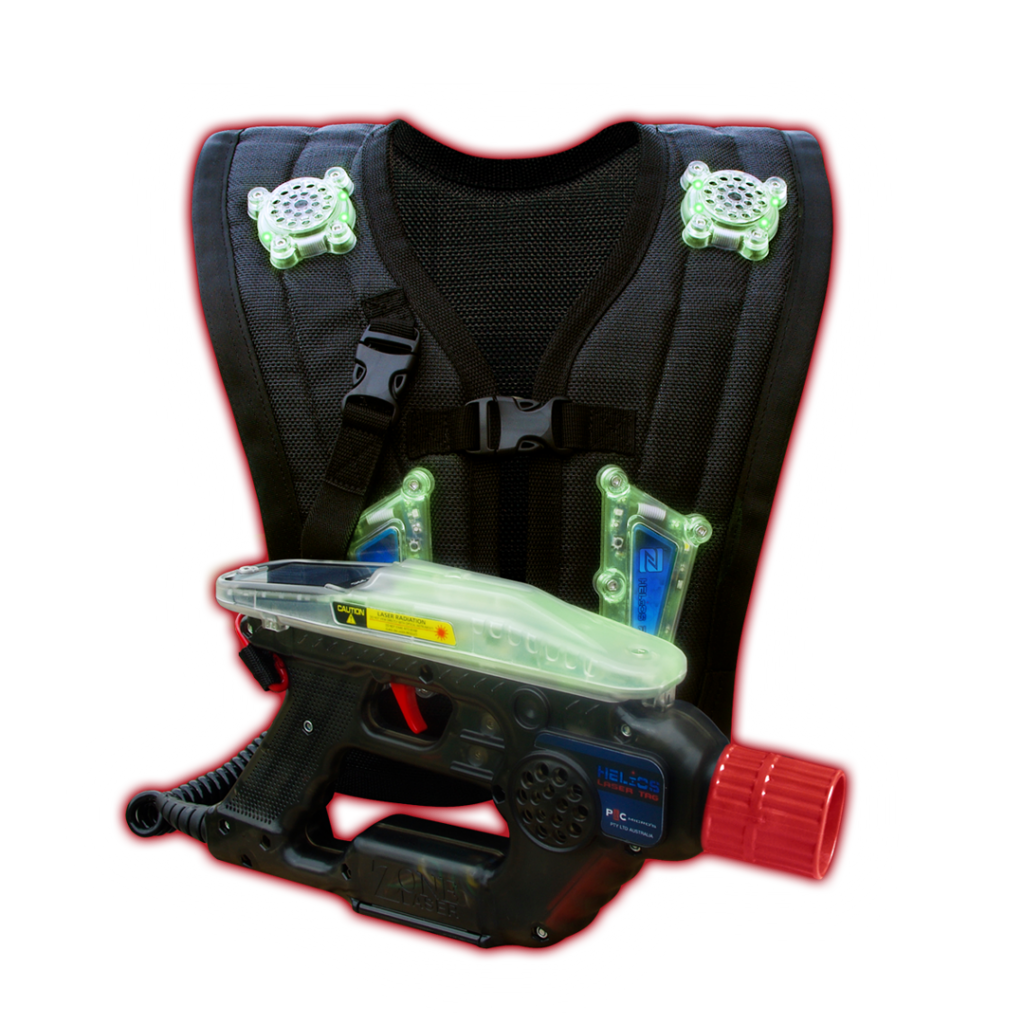 Helios keeps your players coming back for more. It really feels like you're playing in the future: instant feedback playability, maneuverability and superior gameplay combine to make Zone the competition standard around the world. Tagging is accurate, games are fair, and players are rewarded for doing well, both in-game and with membership achievements and rankings.
Helios keeps fun safe. Zone has consistently pushed for two-handed play, even in competitive play. Not only is it far safer, it just feels more natural than swinging a one-handed device around, and our large capacitive sensors are virtually impossible to cheat. Helios implements a super soft, large rubber nozzle protector and a customisable accelerometer "tilt" system to prevent rough play.
● Sings "Happy Birthday" to guests
● Interactive touch screen
● 8 brilliant colours
● Magnetic charging
● Clear dual channel mp3 audio
● Instant tactile feedback
● Photo/avatar recognition on tag
● Scores on screen
● Clear and accurate tagging
● Dual true colour muzzle flash
● Scaling scoring system on 6 tag points
● Fantastic arena accessories
● Multilingual text and audio
● Two-hand play
● Dual select
● Tilt sensor functionality
● Laser lock-on technology
● Lightweight, thin vest
Want to find out more about Helios PRO and our other products? Let us send you our latest portfolio
From the palm of your hand the operator can start and finish games, interact with vests, change settings and colours, print scorecards, and access diagnostics data. O-Zone is web based so it can be accessed from any network connected device.
O-Zone provides diagnostics and maintenance tools to streamline operations. Every LED, speaker, sensor, charger, cable and much more is routinely checked and any faults reported instantly. The operator receives instant notifications—faults are therefore fixed earlier, keeping the maximum number of vests running at all times.
Running Laser Tag has never been so easy
Ready to find out more about Helios PRO?
Reach out, let's talk.
Starting your own centre is a big project. To assist you with each step, Zone provides packages based on our extensive experience and up to date information from around the world. Initially, we'll ask you some general questions to get an understanding of your unique needs.
– The difference is simple
Zone's global membership system comes alive for players by tapping into the massively popular world of online social gaming. With around one million plays a week, the popularity of Zone is undeniable. Embedded into each and every game are skills and achievements for players to work toward and brag about. It's a global and local ranking system reflecting realistic global statistic comparisons site-by-site while also allowing for key local control.
Discover the power of O-Zone, from simple operations, to feature rich controls.
Let your Arena tell a story, that enhances the features of Helios PRO, to make the experience come alive
Will you offer, an experience so vibrant and exhilarating that your customers keep coming back for more?
Reach out, and lets talk about your future of success